BENQ RP8602
Enhance Learning and Student Engagement
Smooth Real-Time Collaboration

Cloud Whiteboard and Sticky Notes for Classrooms
Packed with teacher- and student-friendly features, BenQ's EZWrite 5 software is the leading annotation solution for interactive and collaborative classroom scenarios. Teachers and students can enjoy enhanced interactivity by using EZWrite Cloud Whiteboard to collect, categorize, edit, and share notes between the IFP and mobile devices.
Flexible Anytime Annotation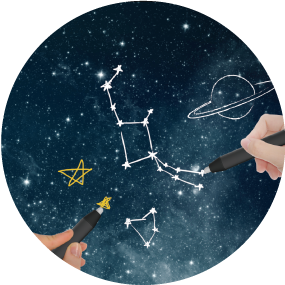 Dual Pens for Simultaneous Collaboration with Different Colors
EZWrite 5 comes with dual pens that allow two users to write or draw simultaneously with different colors, making it ideal for lively classroom activities.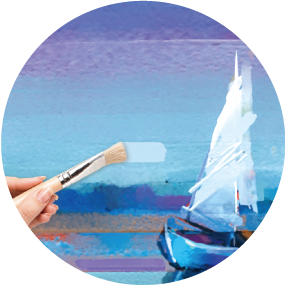 Brush Mode for Creative Education
EZWrite 5 is ideal for creative, inspired creation in art classes. Users are guaranteed to enjoy an effortless experience that feels like writing and drawing with actual pens and brushes.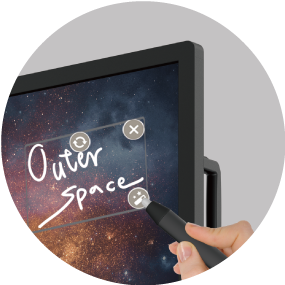 Intelligent Handwriting Recognition
EZWrite's handwriting recognition feature allows users to instantly convert written text, numbers, forms, and drawings into easily legible digital text without having to switch modes.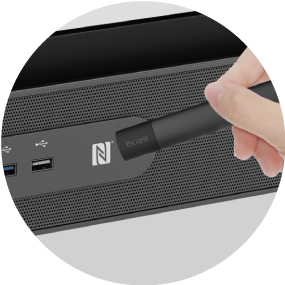 Tap and Create
Teachers can directly open EZWrite 5 with a simple tap of the IFP's NFC sensor and immediately begin creating vibrant notes with various colored pencils, backgrounds, and palm erasers. This quick and convenient access streamlines teaching flow and helps keep students focused.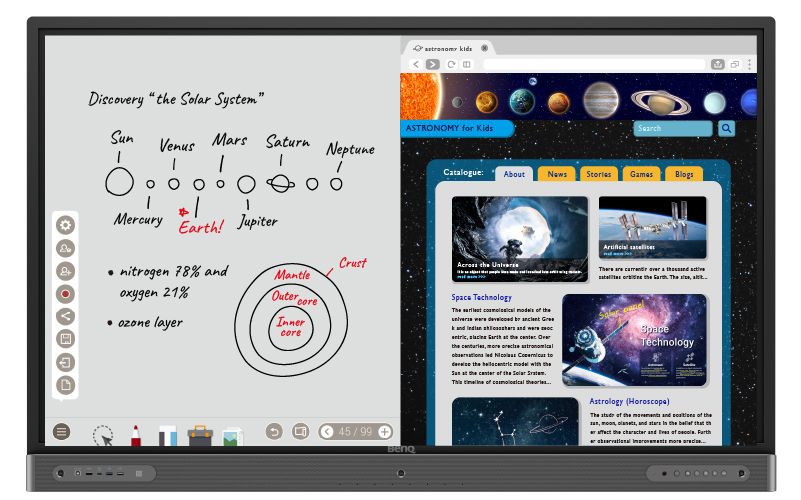 Duo Windows
This feature allows users to multitask by running two apps side by side on the interactive display, doubling their efficiency. Teachers and students can look up information on a browser while whiteboarding at the same time.
Floating Tool
EZWrite's built-in Floating Tool empowers teachers to write on top of any app, video, website, document, or image. Whether using Windows, Mac, Chrome, or Android, a teacher can take notes on top of any on-screen content and save them. With screen capture, it allows users to capture all – or just part – of the screen within two fingers at both hands. The Floating Tool also offers a smooth writing experience when used with HDMI, VGA, DP, and other signal sources, ensuring maximum flexibility.
Upgraded Touch Resolution with Advanced Technologies
Immediate Message Delivery and Management

The Smart Broadcasting System with Instant Delivery and Easy Management
X-Sign Broadcast is a wireless broadcast system that can push alerts, messages, and announcements during class. Unlike traditional classroom messaging systems, X-Sign Broadcast ensures immediate message delivery as well as group notification. Serving as a next-generation information center, X-Sign Broadcast lets you manage class time content and broadcast enriching material from any device. Creating an engaging learning environment has never been easier.
With its grouping function, X-Sign Broadcast can send messages to a selected group of screens, a single classroom, or the whole school. The grouping function helps ensure information is only sent to the recipients for whom it's intended, while also reducing the time and labor required to send messages to multiple people.
• Smart grouping by class or attributes
• Messages can be sent to multiple recipients simultaneously
Cast Contents on Various Portable Devices
Wireless Solution for Seamless Collaboration
InstaShare is the software designed for seamless wireless presentation and collaboration during lectures. It allows the smooth streaming of visual, audio files, and Full HD quality videos. Users can also mirror and control all digital content across the devices including BenQ IFP, PCs, tablets, and smartphones, empowering contributors to enrich their sessions with a variety of multimedia resources.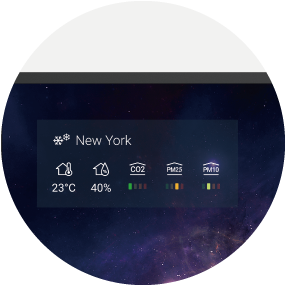 Air-Quality Sensors
Bad indoor air quality decreases the learning efficiency and exposed students at risk of lifelong health problems. BenQ Air Quality Sensors provide real-time data on key environmental parameters by detecting temperature, humidity, and monitoring PM 2.5 and CO2 concentration level. These sensors remind teachers to adopt necessary mechanisms to keep the environment at an ideal status, ensuring that students can remain highly concentrated during class while enjoying a much healthier learning environment.
Smart Eye-Care Solutions
The Smart Eye-Care solution can function intuitively with the help of the embedded motion sensor. For a smooth and comfortable viewing experience, the RP02 series is equipped with short-range PIR buttons, which will automatically activate Flicker-Free and Low Blue Light features by detecting the movement of users close to the screen.